Πολύ ζέστη έξω; Τι γίνεται με το data center μέσα;
---
Ιούλιος στην Αθήνα... Η άσφαλτος λιώνει από την ζέστη. Σε τι κατάσταση είναι ο πολύτιμος εξοπλισμός σας;
Διαβάστε ένα καλό whitepaper από τις  Panduit, APC και Cisco (Panduit, Cisco, APC White Paper- Data Center Considerations), άν έχετε πολύ χρόνο τώρα στις διακοπές διαβάστε για την ψύξη καμιά 20αριά(!) άρθρα από την APC (Network-Critical Physical Infrastructure: Cooling) ή ρίξτε μια ματιά σε λύσεις όπως αυτές από την 42u (http://www.42u.com/42u-rack-cooling.htm), την Emerson-Liebert,  την IBM (Cool Blue και μια πολύ καλή μελέτη Challenges of data center thermal management) και την Egenera (Coolframe για το BladeFrame σε συνεργασία με τις hp και Dell). Αν δεν βγάλετε άκρη, πάρτε ένα λάστιχο και καταβρέξτε τους servers...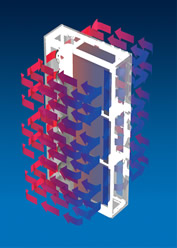 42U Rack Liquid Cooling Package
Developed to remove high levels of waste
heat from server enclosures, this high
density cooling solution utilizes LCP air/water heat exchanger
providing uniform, effective and affordable
cooling for servers and similar IT equipment.
The special horizontal airflow of the
LCP represents an adaptation of this
widespread cooling principle, providing
cooled air uniformly throughout the
complete height of the enclosure.
The Liquid Cooling unit is a
modular, upgradeable and temperature
neutral
cooling concept.
Up to 30kW cooling output, with

three

cooling modules possible per

equipment rack

Controlled variable speed fan and

water flow based

on actual heat load generated in

cabinet

Constant temperature cold air

provided at the front

intake for optimized equipment use,

hot air removed

from rear

Even air distribution along

the entire height of the front

482.6 mm (19") mounting angles

Can be bayed between two 42U

racks

High energy efficiency in

removing waste heat with no

temperature impact in the room